Tree Planting Program
Resumes this Spring
Tree Committee
Lisa Castillo
Nancy Tucker
Diane Chuhron
Bill Morales
Curb side tree plantings will resume in the Spring. If you want to be considered for a new curb-side tree, please call the Dept. of Public Works at 354-0064. A site inspection will be done prior to any planting to ensure that the ground is able to support a tree.
Instructions on the care of your new tree will be provided at the time of planting. And additional information can also be found on the Arbor Day Foundation website at www.arborday.org.
Trees are essential to maintain our environment and the suburban landscape of our community. We hope you take advantage of the tree planting program.
Tree City USA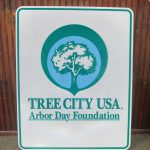 Have you seen the new signage at the east and west entrances to the Village. These signs publically reinforce to others that the Village of New Hyde Park is a community that cares about the environment and the preservation of our suburban landscape. Last year, the Village Board and Tree Committee worked diligently to obtain Tree City USA designation for our Village. Receiving this designation is a big advance in our community forestry program. It also provides greater access to grant funds which will allow the Village to purchase more trees and enhance our overall tree program.
Arbor Day Tree Plantings
In late April 30, 2017 new trees were planted and another 20 trees will be planted by early summer. The Purple Leaf Plum Tree was selected this year because the tree is wire and sidewalk friendly and the purple leaves and early spring flowers will add beauty to the landscape.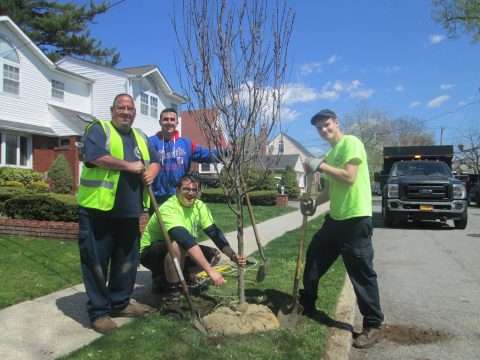 DPW members (from the left) Tom Kane; Nick Goncalves, Vinnie Concha; and Conner Corcoran prepare the site on Park Avenue before placing the new tree in the ground.
Arbor Day Tree Plantings
As part of our Village Arbor Day Celebration, on Friday, April 29 2016 members of the newly formed Tree Committee helped the Department of Public Works plant a tree. This is the first of many new trees expected to be planted this spring.
The Department of Public Works has curbside trees ready for spring planting. Please call the DPW at (516) 354-0064 to get placed on the tree planting list. While weather conditions play an important role in determining the schedule, planting is expected to continue through May and resume in the fall. Once your new tree is planted, instructions on the care and maintenance of your new tree will be provided.
Please help enhance the suburban landscape of this community and support the Tree Committee as it seeks to obtain Tree City USA designation for The Village of New Hyde Park. Besides its obvious beauty, trees play an important role in keeping the air clean and cool while filtering out harmful UVA/UVB sun light. Trees help to minimize noise pollution by acting as sound barriers while also providing food and shelter for birds and other wildlife. Please call the DPW today and put your name on the planting list.
Beautification Chairman Rich Pallisco and Tr. Donna Squicciarino with DPW team members Neil Attardi (left) and Rich Sharvin (right). This new Aristocrat Pear tree will add to the green landscape on Premier Blvd.
The newly formed Village Tree Committee meets with
Horticultural and Urban Forestry Expert Vincent Drzewucki from the Cornell University Cooperative Extension of Nassau County.
L-R Lisa Castillo, Diane Chuhran, Mayor Bob Lofaro, Beautification and Parks & Recreation Committee Chairman Rich Pallisco, Trustee Donna Squicciarino, and Vincent Drzewucki.  Seated is Nancy Tucker (missing from photo Bill Morales)
The next meeting of the Village of New Hyde Park Tree Committee will be held on Thursday, February 25, 2016.
A new Village of New Hyde Park Tree Committee has been formed and held their first meeting on Thursday, November 18, 2015.  More information will follow.
If you are interested to become a member, email us at info@vnhp.org
Volunteer Opportunity – Join the Tree Committee
A new Committee was recently formed to help manage existing tree inventory, tree maintenance, and to re-populate the green space in the Village. A number of volunteers have joined this exciting new endeavor and the Committee hopes that more residents volunteer.
Members of the Tree Committee will research and select software to help the Village better manage its tree inventory and maintenance schedules. The Committee will also seek corporate sponsorship and/or donations for the purchase of new trees. One of the goals of this team effort is to help the Village achieve a "Tree City USA" designation. We can use your help as we continuously try to enhance and manage the green space in the Village.
LEAF COLLECTION SCHEDULE
beginning in the Fall
RAKE LEAVES INTO THE STREET AND WE WILL PICK THEM UP WITH OUR VACUUM TRUCKS